Students of the Week 1/10/21 - Viridian Miranda, Olivia Sanchez, and Mason Esparza! Shout out to these individuals for their amazing character and hard work!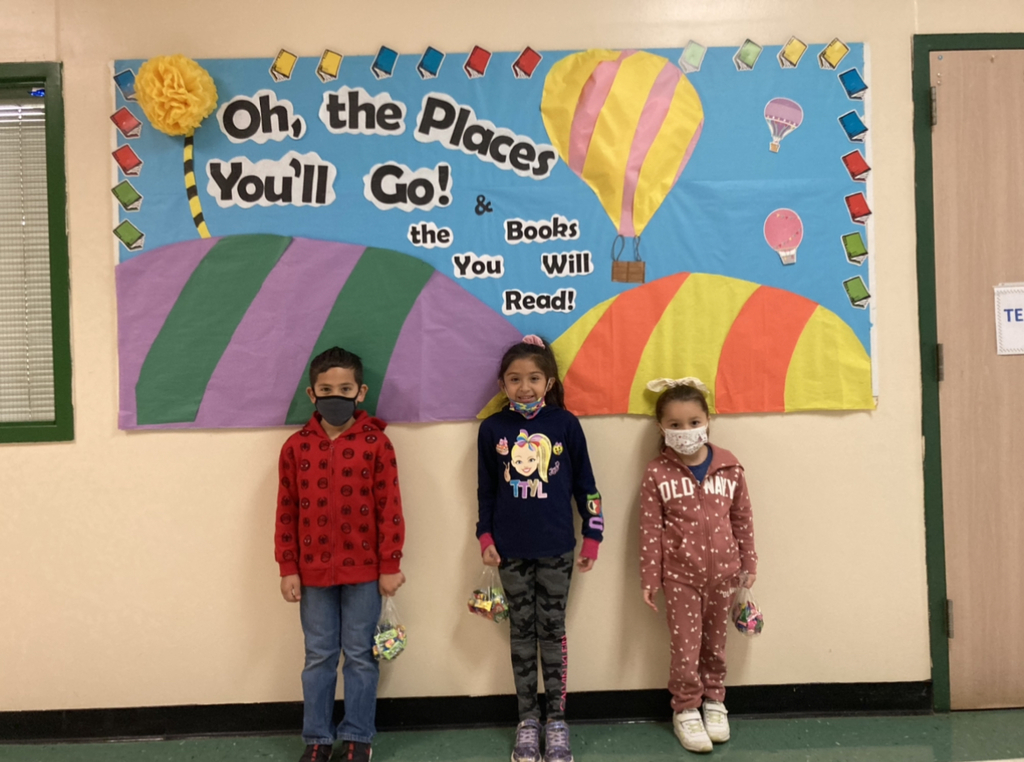 Please view the attached flyer regarding curbside meals.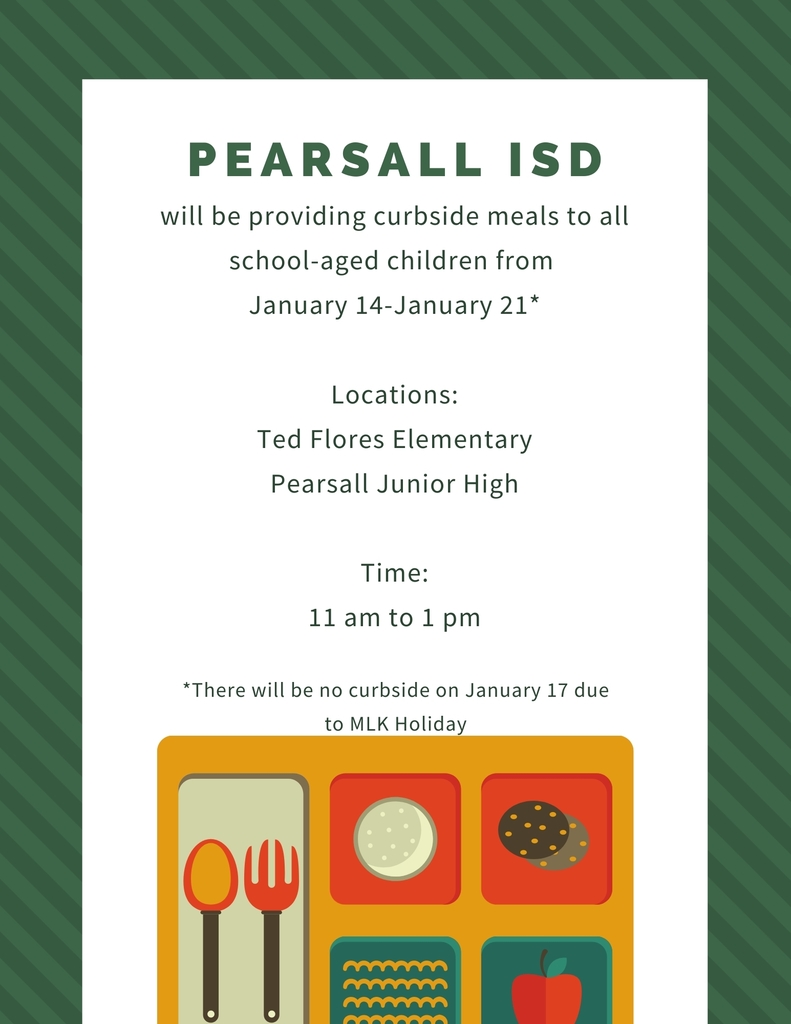 Pearsall ISD Community, Please view the attached Community Notice for Pearsall ISD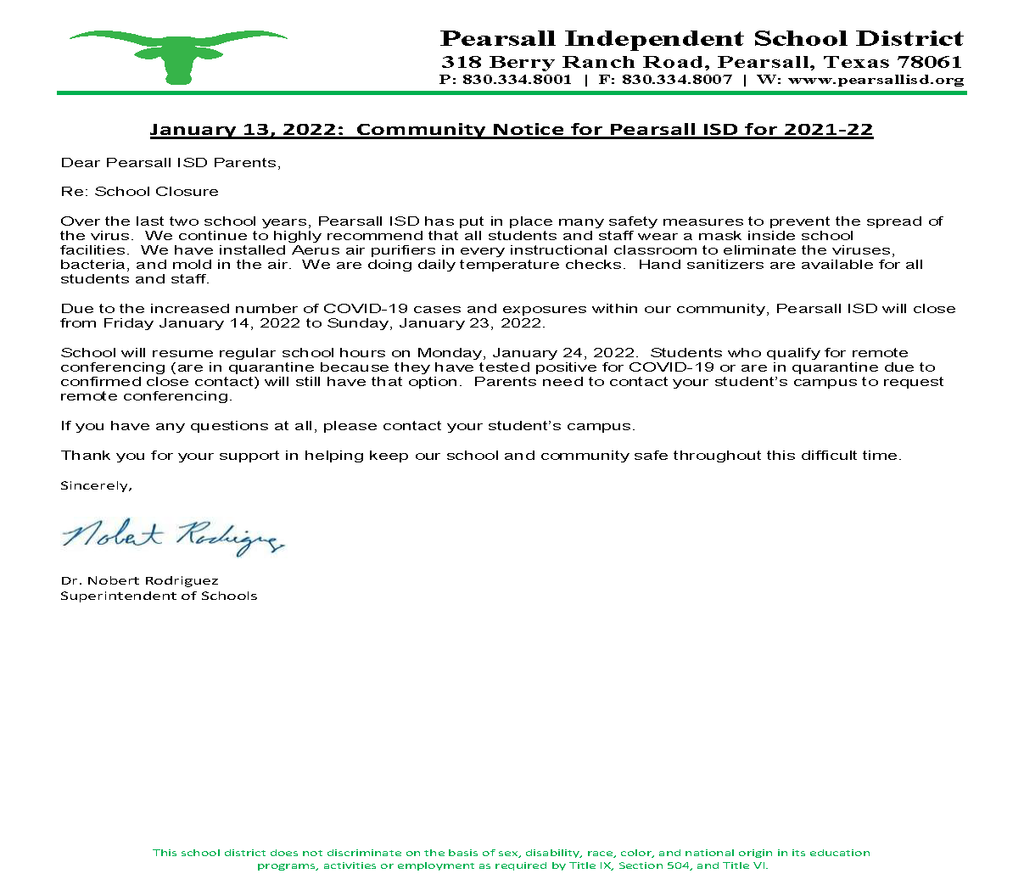 Curbside Food Information for Jan 14-21st! (Curbside will not run Jan 17th on MLK Day)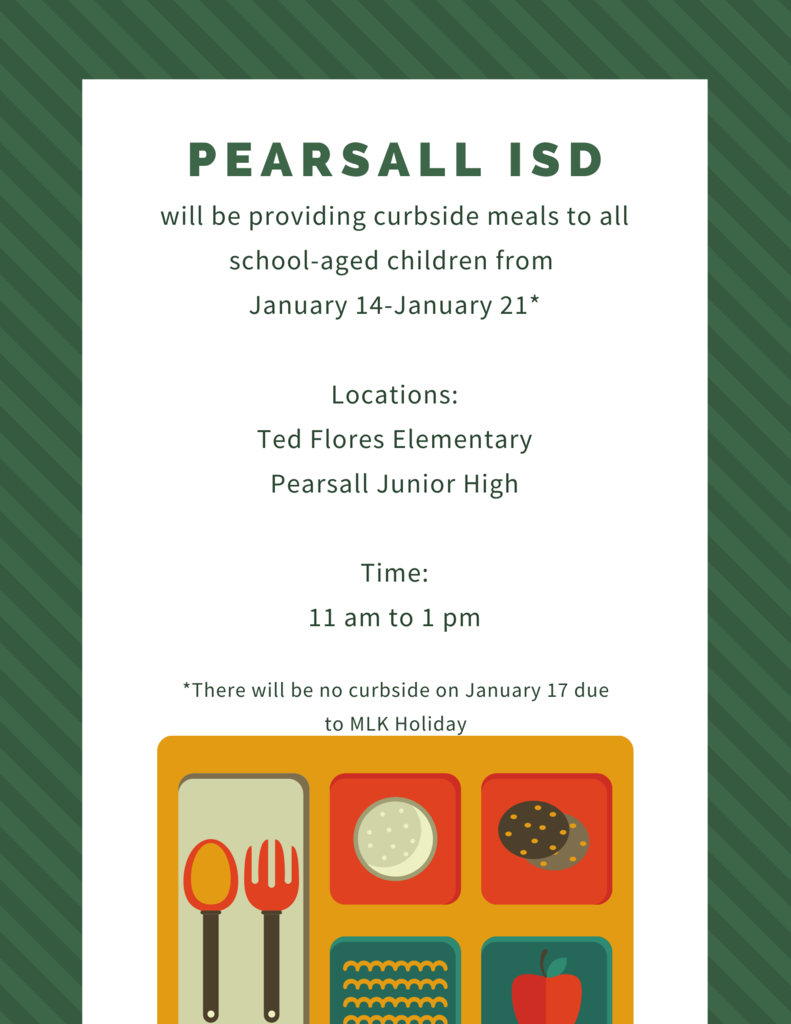 Teacher/Staff Member of the Week - Congratulations Mrs. Martinez! Thank you for all your hard work, and setting a standard of excellence at TFE!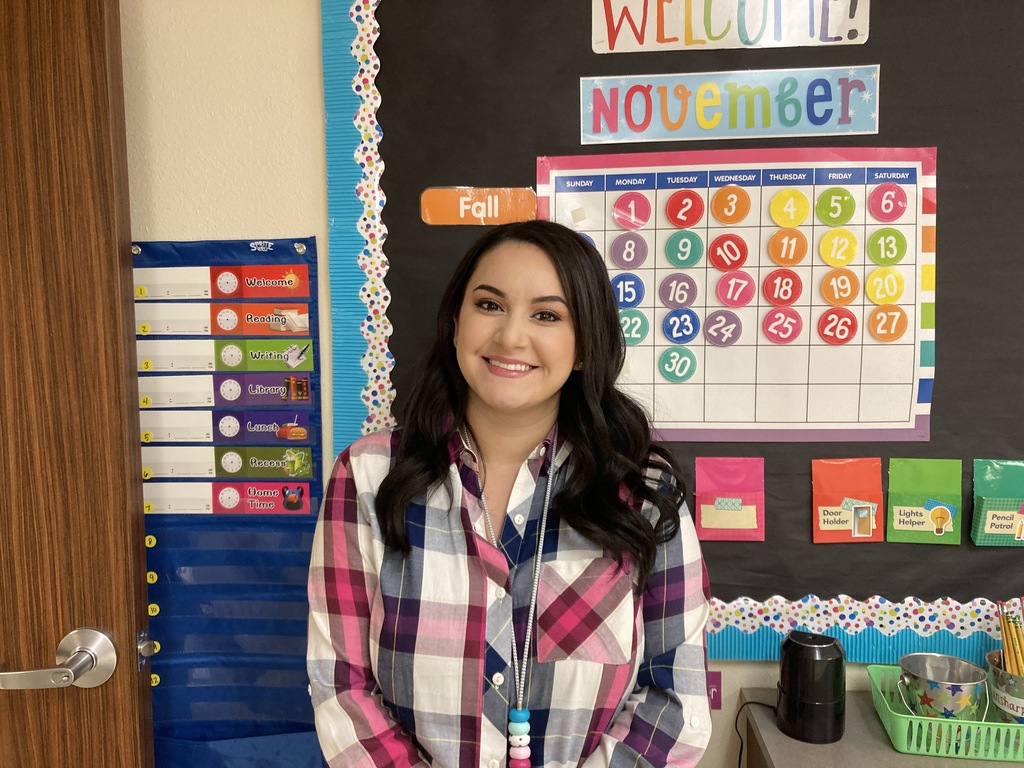 Congratulations to our first set of "students of the week' of 2022. Keep up the great work boys!! Joey Navarro Marco Vela Sabastian Vargas Joe Anthony Ramos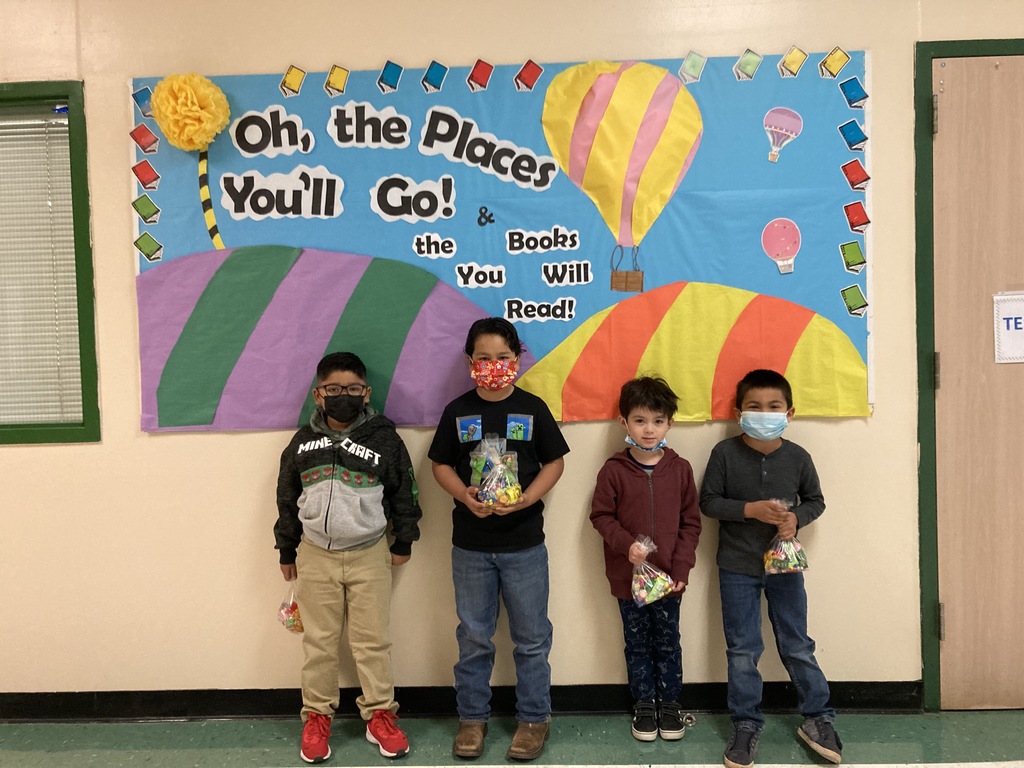 Congratulations to our Teacher of the Week - Ms. Banda! We truly appreciate your hard work and enthusiasm and are super excited to recognize such an amazing teacher to start off 2022!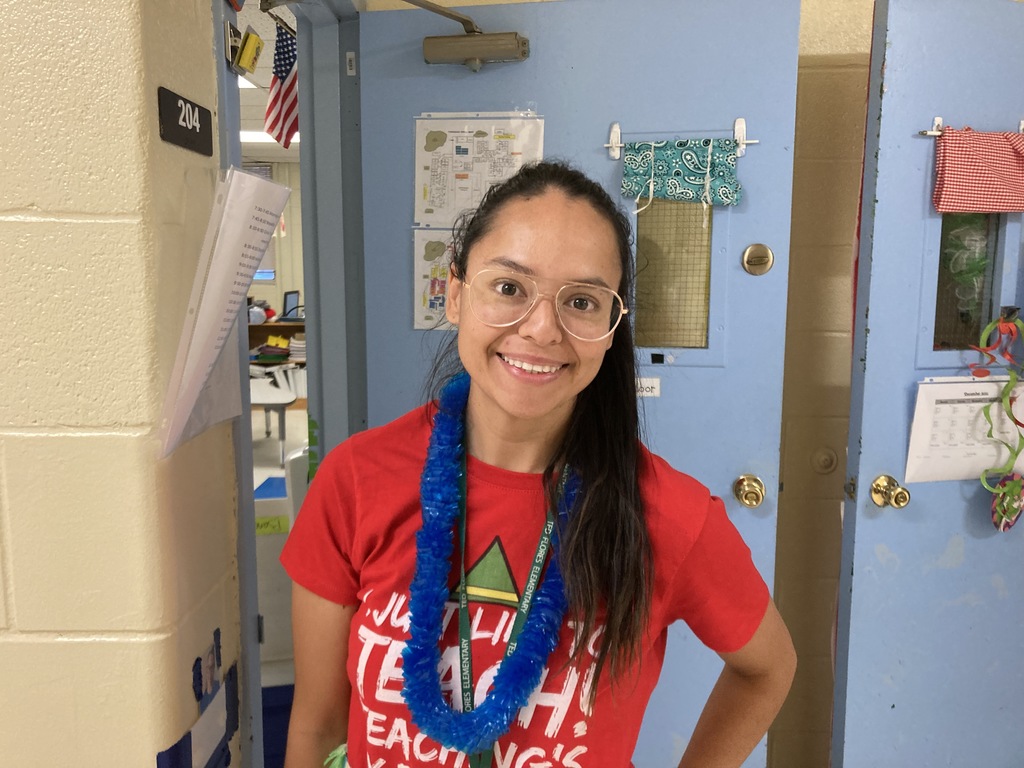 January Lunch Menu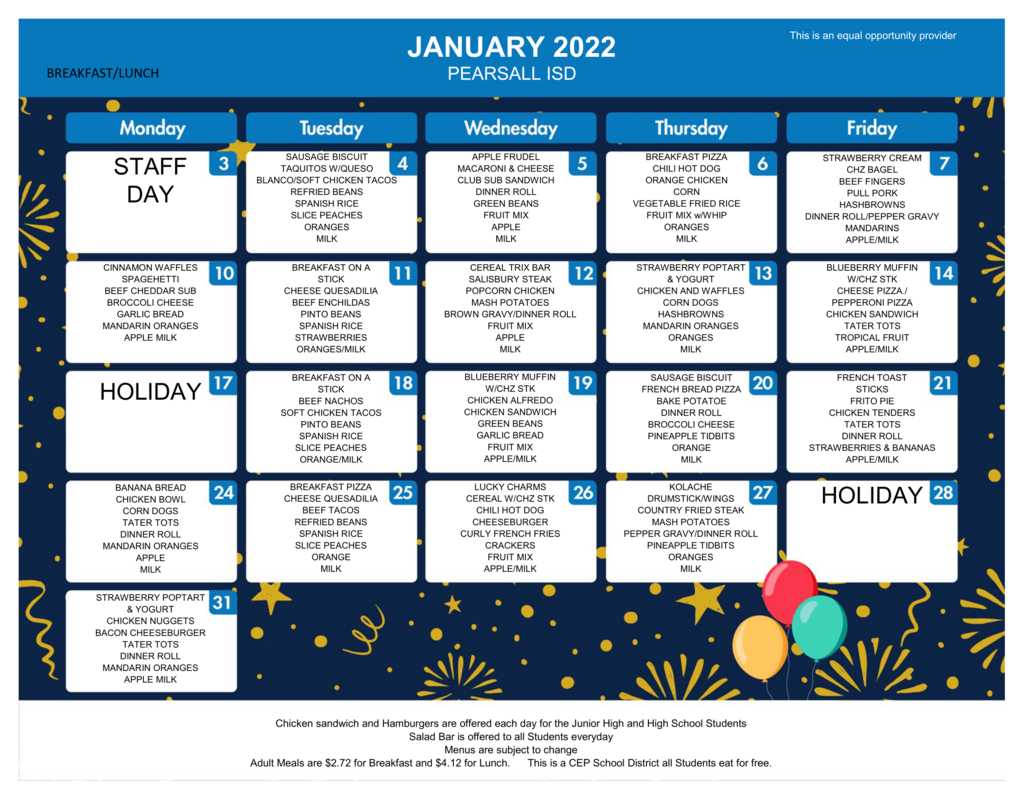 Please view the attached flyer for information regarding Substitute Training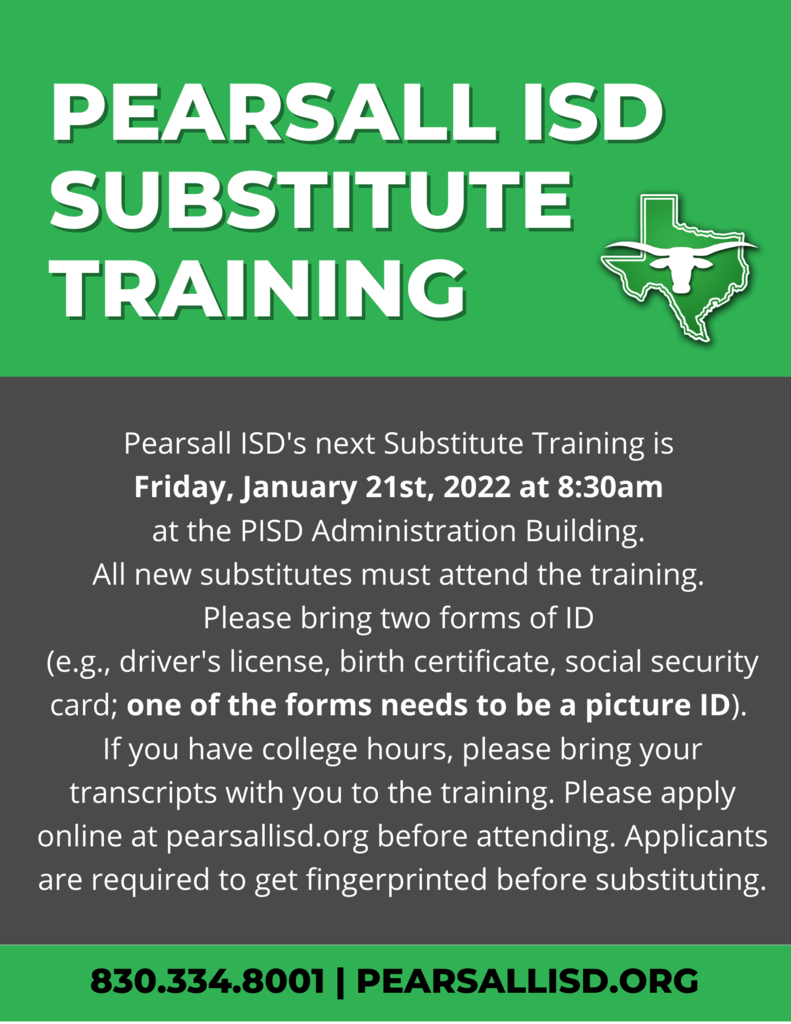 What a way to end our week with - Not one, but two Employee's of the Month! Mr. Esqueda is our Employee of the Month for TFE and the Employee of the Month from Food Service - Mrs. Paredes is also from TFE! Congratulations to them both! They work so hard and we truly appreciate their presence each day at TFE!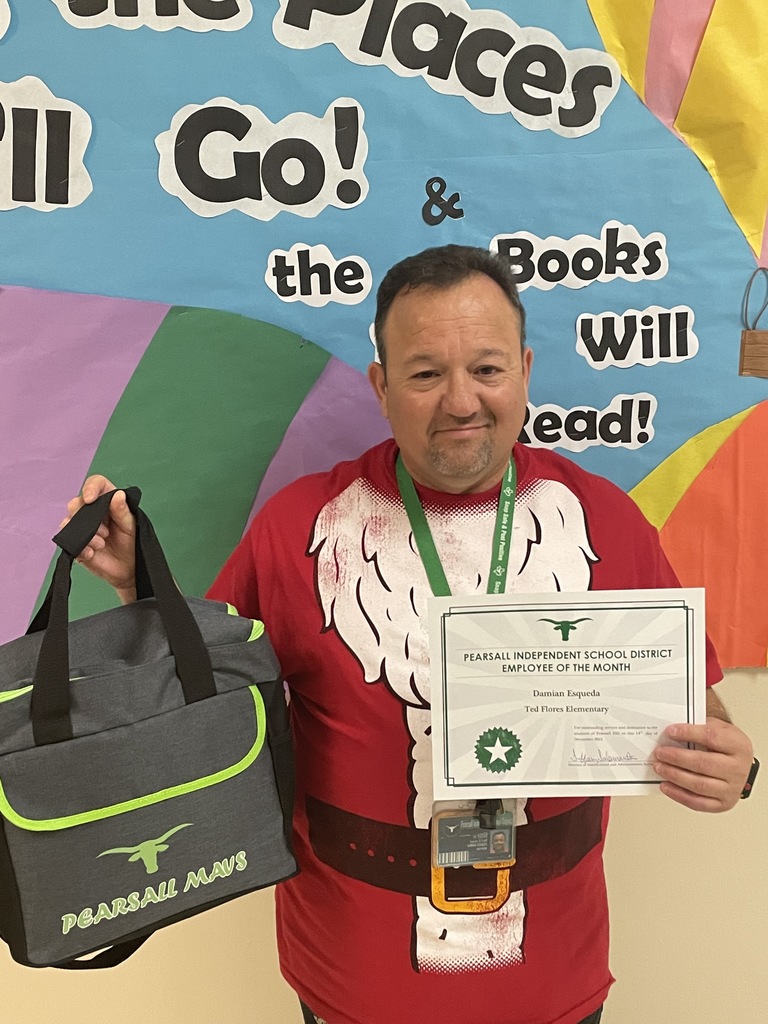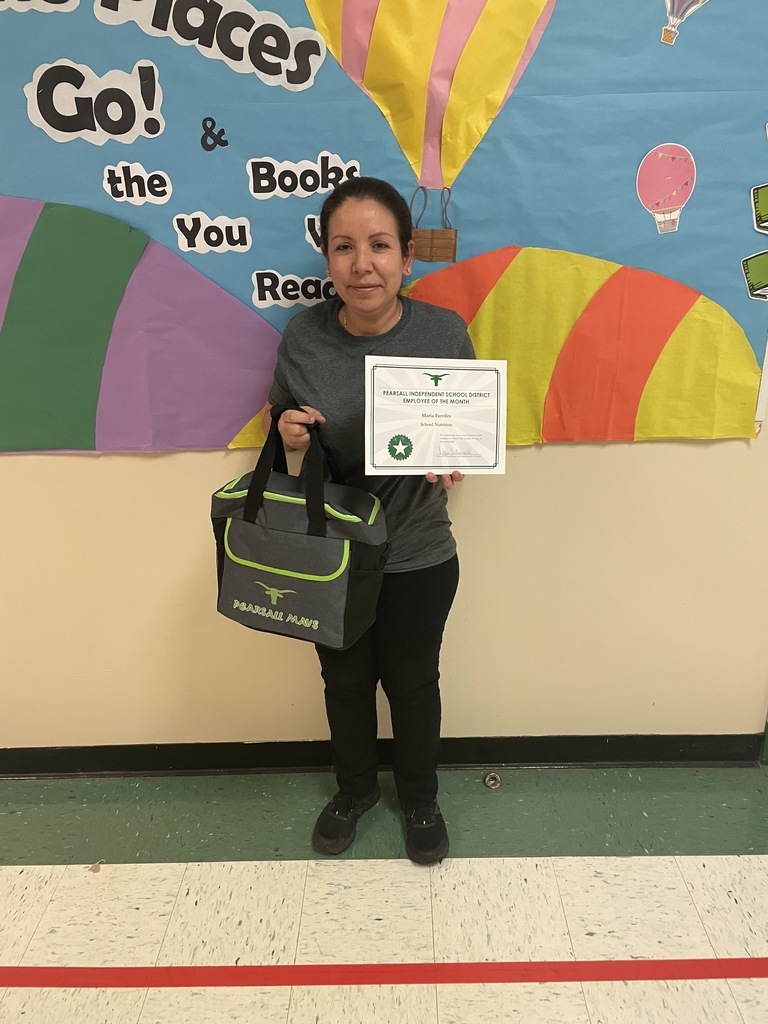 Shout out to our students of the week and our students of the month! We are tremendously proud of all the great things you are accomplishing at TFE. Thanks for helping us close out the final school week of 2021 on a strong note! Students of the Week - Aviana De Leon, Christopher Ureste, Alyanna Perez, Sebastian Garcia. Students of the Month - Dashone Hernandez & Carleigh Viesca!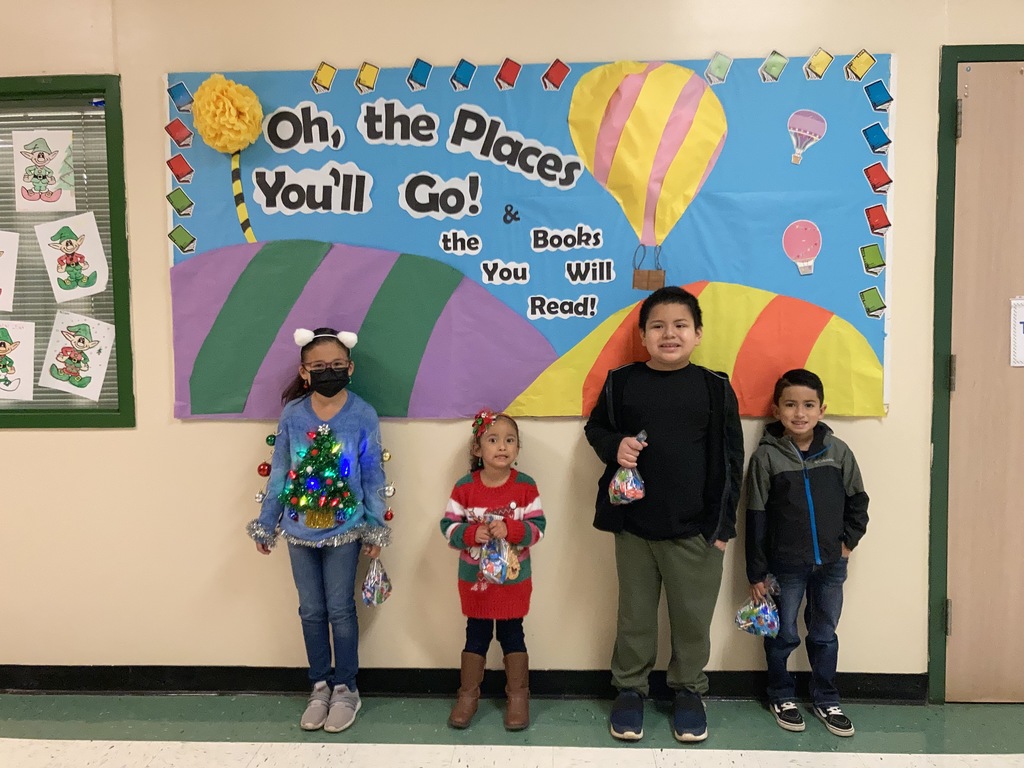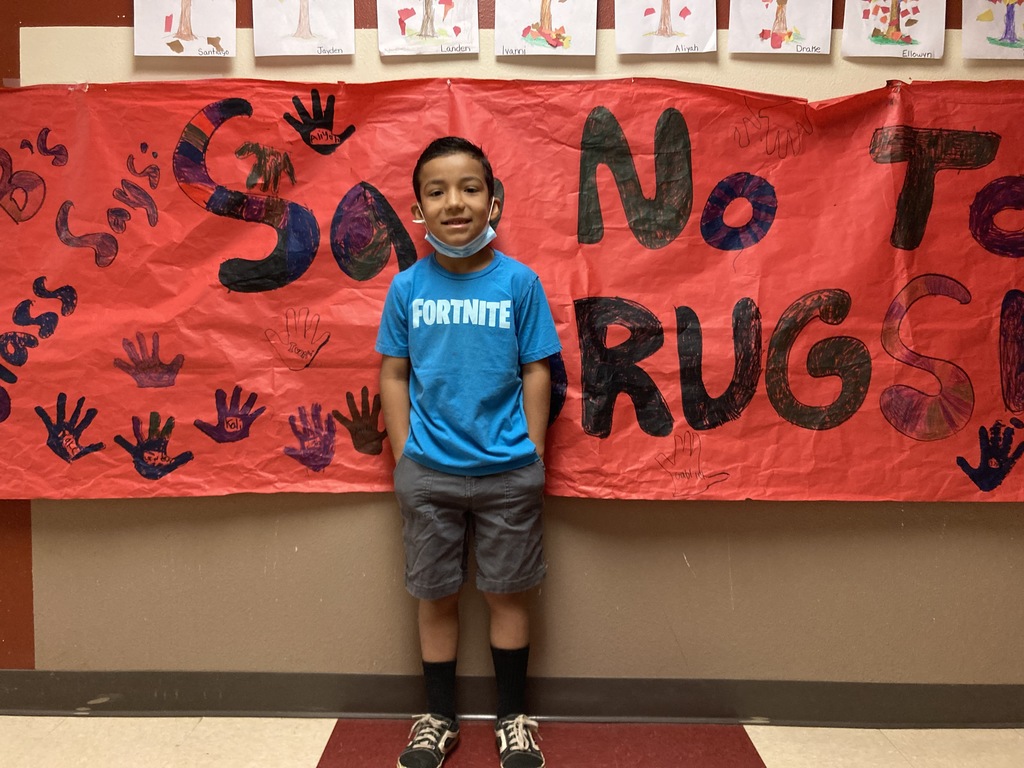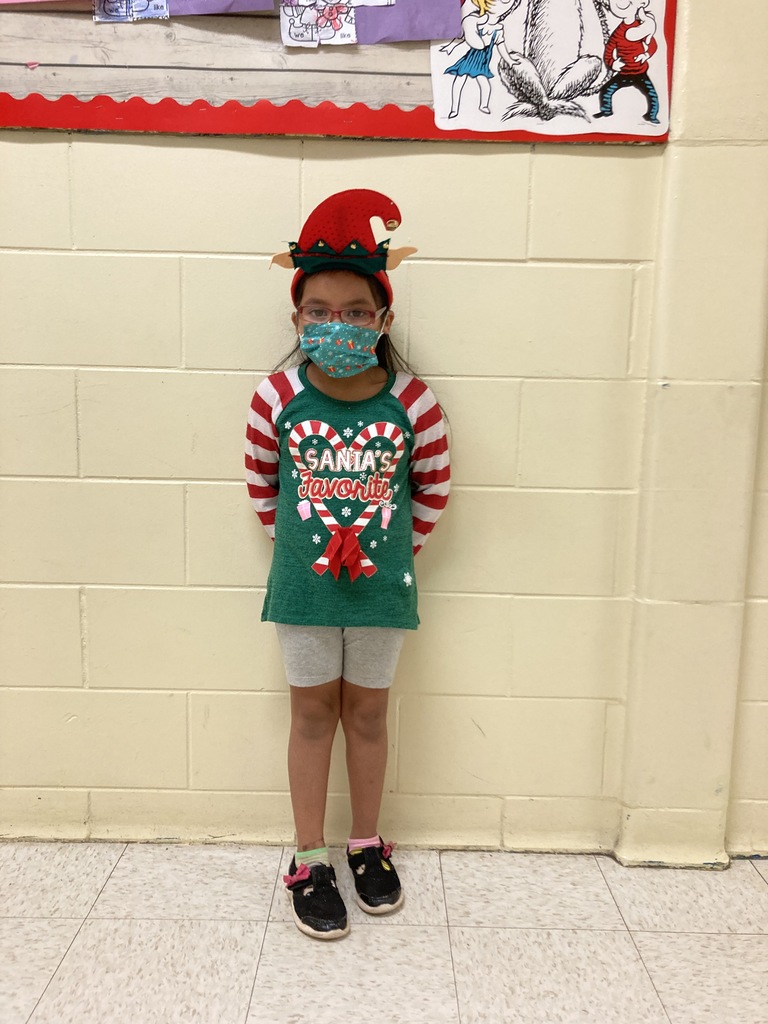 The TFE Winter Concert Premiere Starts Soon! Come meet us out by the pavilion! Ace is giving away hot chocolate while it lasts, and PTO is selling drinks and candy. Use the following document to see the times each class will be on stage. If you can't make it tonight please make sure to watch the concert tomorrow when it is posted. Thank you!
https://docs.google.com/document/d/14BXDWpCUEDhaYrOctiAMvNY6sXCimwthpofiovX4uPw/edit

Congratulations to our Students of the Week from last week! Sorry for the late post, but we want to recognize each of these Lil' Mavs for their great work in the classroom! Xadie Hernandez Catalaya Zamora Ameliah Prado Andrea Ponce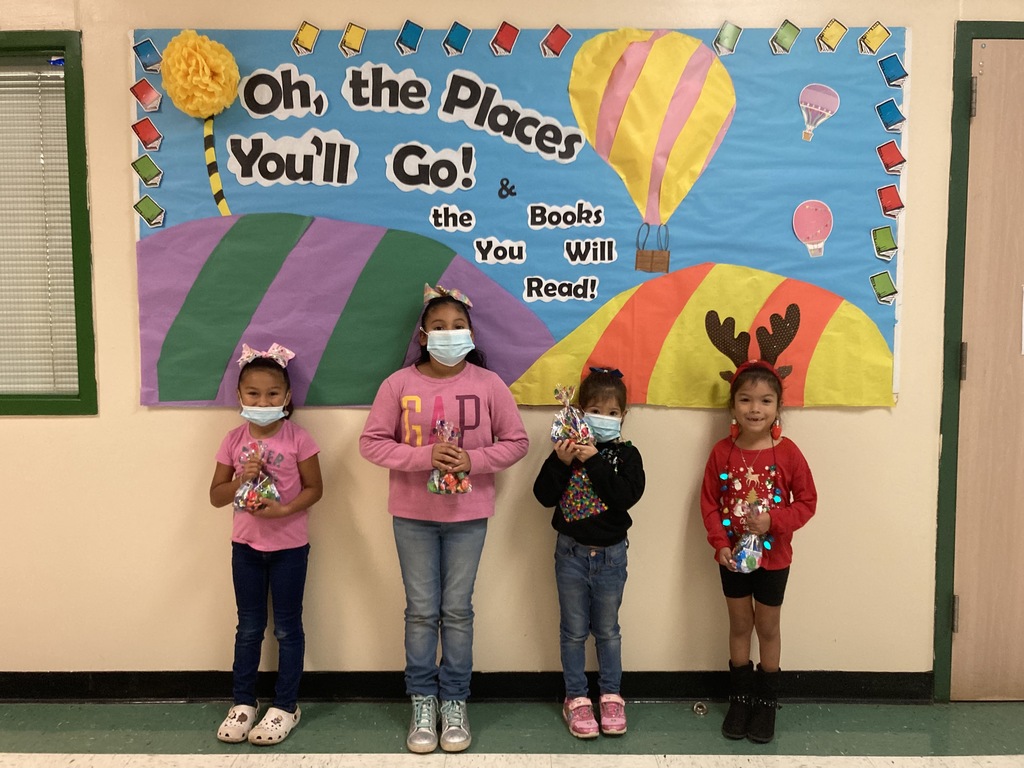 TFE Parents and Community, Please read the information below pertaining to our final school week of 2021. Included are two event flyers that are mentioned in the memo.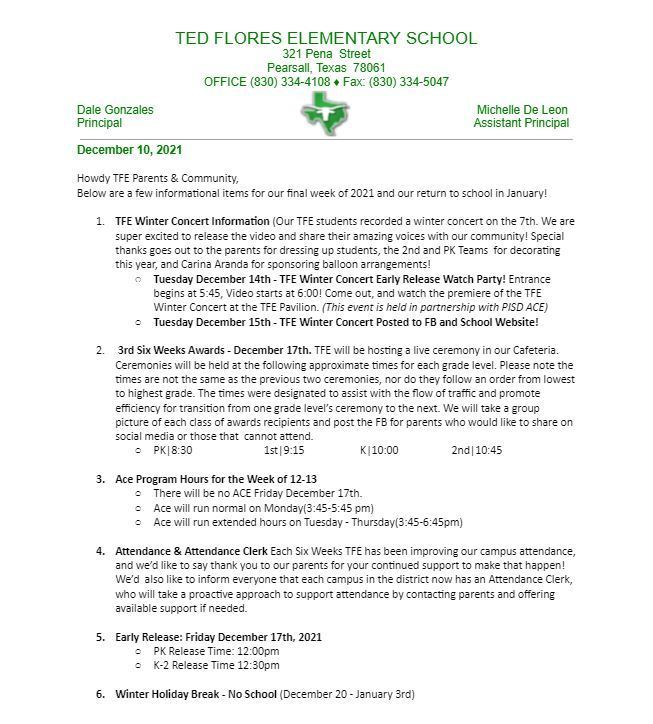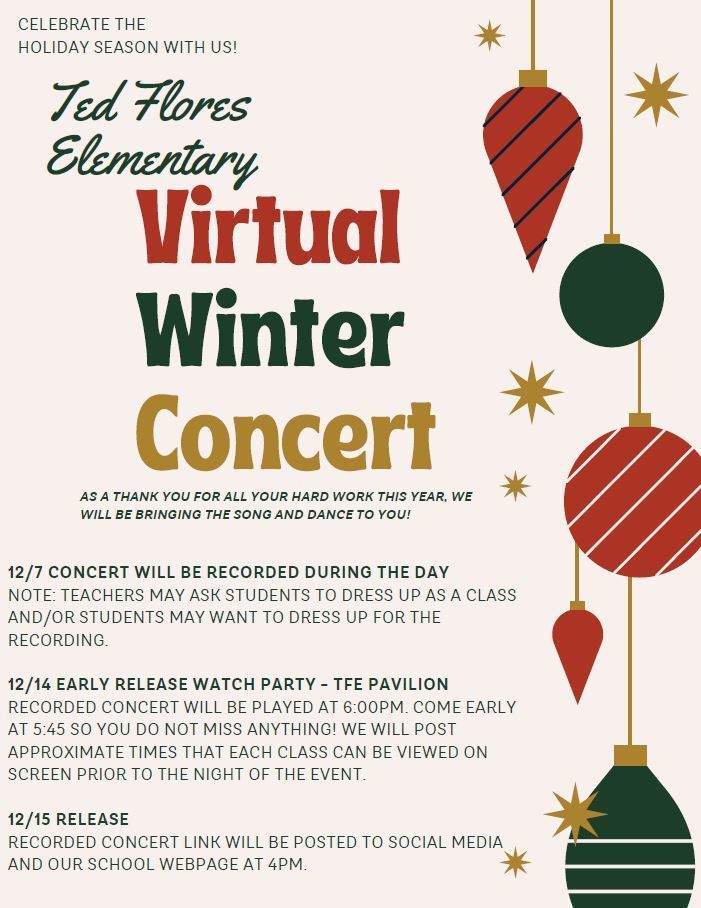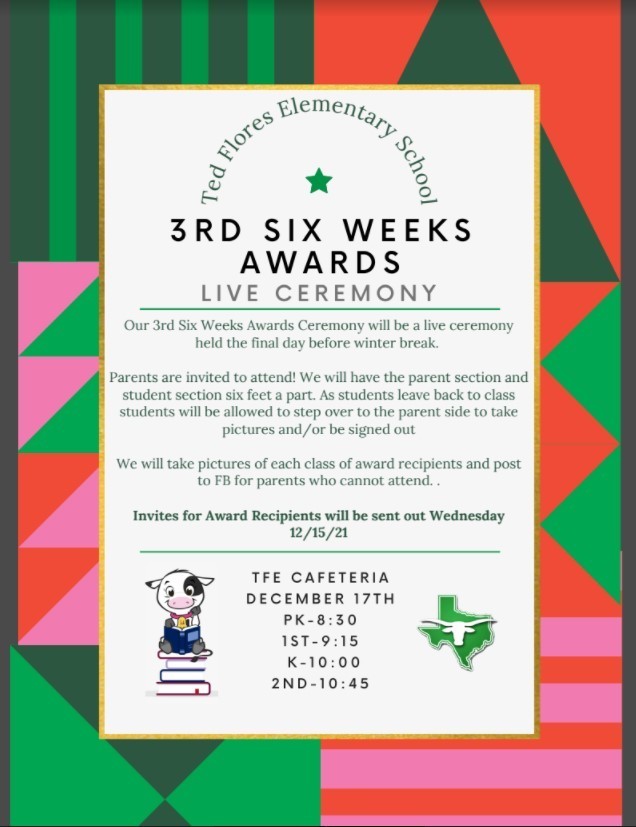 Tuesday's Teacher/Staff Member of the Week: Ms. Parsons! Thank you for your dedicated work ethic, strong rapport with students, and infectious positive energy that radiates throughout the 1st Grade and TFE!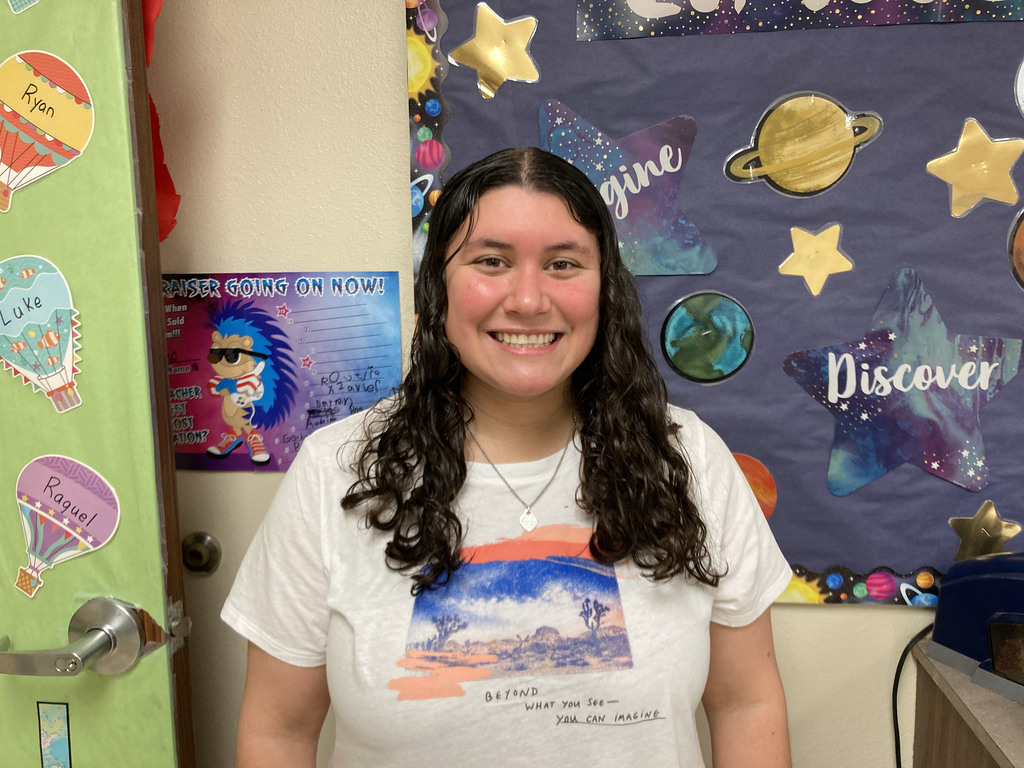 TFE 3rd Six Weeks Awards Ceremony Information! - Dec 17th.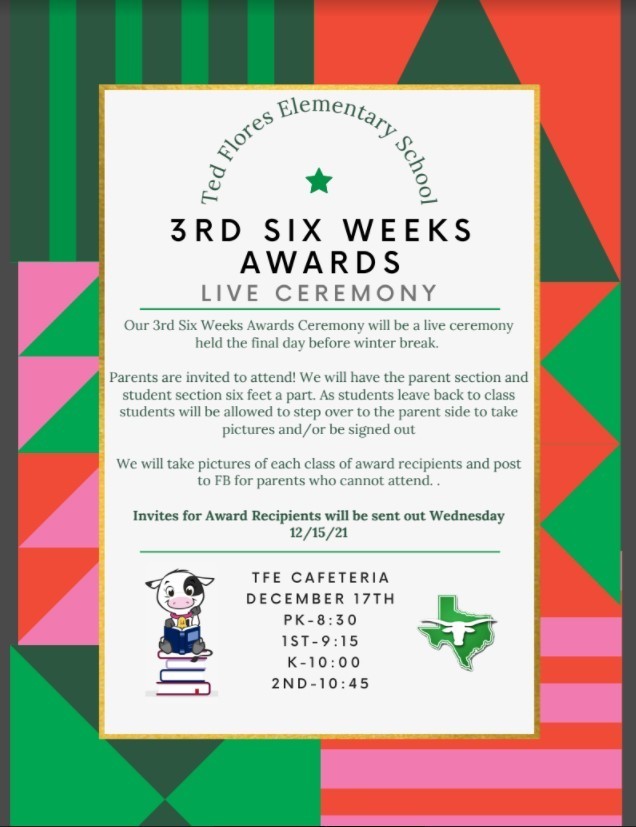 We'd like to recognize our Staff Member of the Month of November - Mrs. Solbrig! In addition we'd like to recognize the two most recent staff Members of the Week - Ms. Waldrum and Ms. Reyes! Thank you for all your hard work and making a difference, every day, for our students.